Please contact Tracy Rockers, Transportation Director, for more information about student transportation and bus routes at 785-594-RIDE (7433).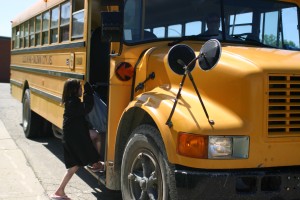 Bus Rules:
All school rules apply to school buses.
Be courteous and respectful of others and their possessions.
With the exception of water no eating or drinking is allowed on route buses.
Stay in your seat and keep noise to a moderate level.
Keep head, hands, and feet to yourself and inside the bus.
Keep aisle open and unobstructed.
Do not be destructive.
Bus driver is authorized to assign seats.
Promptness is expected of drivers, riders and sponsors.
No animals are allowed on the bus at any time unless prior arrangements have been made with the bus driver and teacher(s).
Skateboards are not allowed on the bus.