Secure and convenient online payment options are available to parents. Cash and checks can also be accepted at the schools if you do not wish to pay online.  During registration, fee links can be accessed from the Fees tab of E-Registration in PowerSchool.  Some fees, like activities and the Before-School Program, may not show up as available to pay until they have been assessed during the school year.
Fees
You can go directly to the RevTrack site for fees payments such as textbooks, activities, Before-School Program, etc. These are available from the PowerSchool Fee Payments section after they are assessed. You will be informed by email when an additional fee is assessed and is available for payment. No transaction fees are charged for paying online with RevTrack.
You will need both your PowerSchool login information and your RevTrack login information. If you do not have an account with RevTrack, choose CREATE NEW ACCOUNT from the login window.
In RevTrack's WebStore from the High School section, parents can also purchase activity tickets, BHS yearbooks, and BHS parking passes. Choose the logo below to access the site.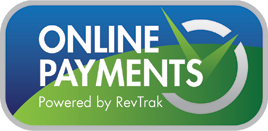 For the 2022-23 school year, USD 348 is utilizing the Titan online payment system for student meal accounts. The previous systems (k12paymentcenter.com, ezschoolpay.com) are no longer accessible. More information about the features available on the Titan Family Portal and Titan Family Connect App can be found under the Food and Nutrition Meal Pricing page.