Secure and convenient online payment options are available to parents. Cash and checks can also be accepted at the schools if you do not wish to pay online.  During registration, fee links can be accessed from the Fees tab of E-Registration in PowerSchool.  Some fees, like activities and the Before-School Program, may not show up as available to pay until they have been assessed during the school year.
Household Economic Survey
All district students will receive school meals for free again this year. Eligibility  for discounted textbook and user fees will be determined by the Household Economic Survey (HES). To receive the discounts, you must also consent to their disclosure. If you qualify, the district receives additional funds that support local programs to help students who need extra support. We encourage all families to consider, review, and complete the HES application, regardless of income.
If your family qualified last year, your fees may already reflect a discount. You must still fill out the  HES and consent to disclosure to receive these benefits beyond September 2021. If you are considered a direct certification, you do not have to fill out the HES.
You may fill out the form online during registration or return a physical copy of the form to one of our school offices. If you have students in multiple schools within the district, the form only needs to be filled out once. Families with 10 or more students will need to fill out the paper form.  A PDF of the HES form is available using this link: HES Form 2021-22.
Fees
You can go directly to the RevTrack site for fees payments such as textbooks, activities, Before-School Program, etc. These are available from the PowerSchool Fee Payments section after they are assessed. You will be informed by email when an additional fee is assessed and is available for payment. No transaction fees are charged for paying online with RevTrack.
You will need both your PowerSchool login information and your RevTrack login information. If you do not have an account with RevTrack, choose CREATE NEW ACCOUNT from the login window.
In RevTrack's WebStore from the High School section, parents can also purchase activity tickets, BHS yearbooks, and BHS parking passes. Choose the logo below to access the site.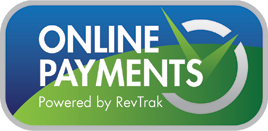 Meal Accounts
Payment System – TITAN Family Portal
In order for students to purchase a la carte items, funds will need to be available in their meal account. For the 2021-22 school year, USD 348 is utilizing a new online payment system for student meal accounts. The previous systems (k12paymentcenter.com, ezschoolpay.com) are no longer accessible and funds from those student accounts have been transferred to the TITAN Family Portal.
You can now use https://family.titank12.com to make payments and see previous purchases. Click on "Sign up Today!" to begin the process of making a new account and be sure to have the following information to successfully link your student(s) to your account:
First Name
Last Name
Grade
School
Date of Birth
There is a transaction fee of $2.60 for online payment. A check, payable to USD 348, or cash placed in an envelope, are also accepted and should be given to the school office. These funds may take up to 48 hours to be credited to the student account. The full meal management policy is available here: https://www.usd348.com/for-parents/food-service/meal-pricing/