Home of the Bullpups!
The Baldwin Elementary School Primary Center serves students in pre-K through 2nd grade.
You are encouraged to review the USD 348 District Emergency Safety Intervention Policy used by all schools in the district.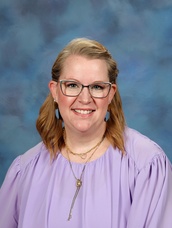 Nicole King
Principal
Baldwin Elementary Primary Center
nking@usd348.com
Ext 500
Baldwin City USD 348 is a great place for learning from the very beginning. We believe that parents are the first and most important teacher.
The STAR program (formerly Parents as Teachers) is designed to enhance child
development and school readiness through parent education and support. This program is
available for families of children pre-natal to six years. For more information contact Deanna Kessler-Miley at 785-594-7050 Ext 115 or email dkessler-miley@usd348.com.
The Early Childhood program is designed to coordinate services for preschool children who may develop or have difficulties in any of the areas of speech, motor, communication, social or other learning skills; provide an early childhood education program for 3 and 4 year old at-risk children; as well as, typically developing 3 and 4 year olds. The goals for all these children is to acquire the skills, knowledge and behaviors that they need to transition successfully to kindergarten and increase the level of parent participation in the education of their children. For more information contact the Primary Center office at 785-594-2444.
School hours: 8:00 AM – 3:12 PM
500 Lawrence Street | Baldwin City | Kansas | 66006
Tel: 785-594-2444 | Fax: 785-594-2445